Saxophone (Alto, Tenor & Soprano), Vocals, Guitar, Percussion

Andrea sings, strums guitar, slams tam and blows tenor, alto and soprano sax with Dave Iglar Bandand DnA Duo. She joined Dave's band in 2003. Previously, she played and recorded with musicians and bands in Kent, OH and Seattle, WA.

In fourth grade, Andrea chose alto sax as her band instrument. She played in school bands then kept her beat-up Bundy in a closet until after college, when her Music Chromosome really kicked in (her dad inherited the same chromosome, an extra one passed down Iglar-to-Iglar). Now she can't stop gigging. She won't say where she got her lungpower.
"WOW! Quite a show." -Blues Society of Western PA newsletter, Jan. 2012

"This year's (Blues Go Pink) band again featured the lovely and talented Andrea Iglar on her wailing sax. ... She had people dancing, laughing, and just re-energizing after a long day."  -Blues Society WPA, 2009

"She has her own following and loves to interact with the audience. She can also sing!"  -Blues Society WPA, 2008

"[Dave] crosses over into jazz, which gives his daughter Andrea Iglar a chance to display her sizzling alto, tenor and soprano sax playing."  –CD Review, Beaver County Times/Allegheny Times, 2006


Special Appearances

Blues Society of Northern West Virginia
Heritage Music BluesFest - International Blues Challenge
Dave Iglar Band
Wheeling, WV, August 2016

Sweaty Betty's 12th Annual Blues Jam
Featured musician with Shot O' Soul
Proceeds donated to the Great Pittsburgh Community Food Bank
North Fayette Township, PA, May 2015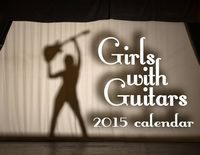 Girls with Guitars 2015 Calendar
Ms. November, featured with Knaggs Guitars
Proceeds donated to Domestic Violence Services of Southwestern PA
Pittsburgh, PA

Pittsburgh Light-Up Night
Performed with Pittsburgh Women of the Blues
Roberto Clemente Bridge
Pittsburgh, PA, November 2013

Summer Blues for Food
Performed with Dave Iglar Band
Benefit Concert for the Greater Pittsburgh Community Food Bank
Cranberry, PA, August 2013

Tarentum Summer Concert Series
Featured musician with The Free Agents
Tarentum, PA, August 2013

Pittsburgh Blues Festival
Featured musician with theCAUSE
Greater Pittsburgh Community Food Bank Benefit
Hartwood Acres, Pittsburgh, PA, July 2013

Charlie West Blues Fest
Featured musician with Miss Freddye
Charleston, West Virginia, May 2012
West Virginia Blues Society

Opening act for Chicago musician Studebaker John
Featured musician with Miss Freddye and Blue Faze, appearing with slide guitarist & blues harpist Studebaker John, bassist Bob Halaj & drummer Paul Ashford
Pittsburgh PA, New Year's Eve 2011-2012
Blues Society of Western Pennsylvania

16th, 17th & 18th Annual Blues for Food
Benefit Concert for the Greater Pittsburgh Community Food Bank
with Mark DeMeno Band & Dave Iglar Band
Domenico's, Cranberry PA, 2010, 2011 & 2012

Rock Falls Midsummer Music Festival
with Mark DeMeno Band
Slippery Rock, PA, 2011

"Blues Go Pink" Concert for Women's Health
Featured Musician with Pittsburgh Women of the Blues, Miss Freddye and Blue Faze & with the All-Girl, All-Star bands
Pittsburgh PA, 2008, 2009, 2011, 2012, 2013
Blues Society of Western Pennsylvania/Adagio Health

D-Jam '06, '07, '08, '09
Annual Food Bank Benefit w/ theCAUSE & Friends
Pittsburgh, PA
 
Blues Society of Western Pennsylvania
Blues Challenge Finals 2007
with Dave Iglar Band
Moondog's, Blawnox, PA

Pittsburgh Blues Festival
Greater Pittsburgh Community Food Bank Benefit
Hartwood Acres
Pittsburgh, PA 2005

Instruments
-Tenor Sax: Yamaha Custom Z
-Alto Sax: Cannonball "Big Bell Global Series"
-Soprano Sax: Monique curved
-Electric Guitar: Knaggs Severn

Favorite Saxophone Movie Quote
"You don't want me, Sugar. I'm a liar and a phony, a saxophone player--one of those no-goodniks you keep running away from."
--Tony Curtis (Joe/Josephine) to Marilyn Monroe (Sugar Kowalczyk) in "Some Like It Hot" (1959)